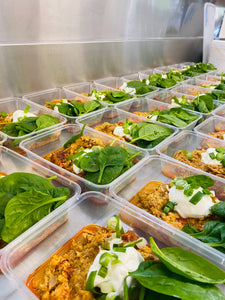 Please read our FAQ page and seek medical advice prior to commencement.
MAN SIZE options are 50% larger than our regular meal plans! 
What's included: 

7 x MAN SIZE Lunches 
7 x MAN SIZE Dinners 


Required pick up on Friday (4pm-5pm) or local delivery available. 
Our weekly meal plan menu is posted to our Facebook page, along with other helpful tips, advice and support. 
We highly recommend 4 weeks commitment to our meal plans to ensure a proper transition into ketosis. If you are a new customer, please contact us directly on 0432 311 316 or email jarplatterketo@gmail.com for a consultation and further information. 


ALLERGEN ADVICE: We take your health very seriously. Please contact us if you have any allergies or intolerances. 
In our kitchen we use a variety of nuts & seeds, some soy products and some dairy. 
We do NOT use any gluten products. However, some whole food products such as seeds, may have allergen advice on the packaging stating 'may contain gluten'. 


 Price increase as of July 1st, 2020.